Time Trek Mobile Disco
Proper Old School Retro Disco, 100% Vinyl Or CD
Good evening, I'm Andrew from Time Trek Mobile Disco. Welcome to our profile page.
Time Trek Mobile Disco has been a needadisco.com member since 2022 and we are delighted to have earned a DJmark Award underlining our commitment to great customer service.
Please read on to find out how we can help you have an unforgettable party...
Introducing Time Trek Mobile Disco
Time Trek Mobile Disco is a genuine retro disco. That means the lights and equipment are all proper old school. Using either vinyl records or CDs (or both), our experienced DJ Andrew can play this year's top tunes, or he can take you back to whatever era you want! 1950s rock & roll? 1970s disco? 1990s brit-pop? As a proper retro disco, we use no laptop, no mp3s and no LED lights. We love the sound of proper physical media, and we love the look of the old school disco lights. The equipment is retro, but it all works and it's all safe. Available for parties and celebrations of all types - birthdays, reunions, work events, naming ceremonies and more. Time Trek Mobile Disco is run by a DJ called Andrew who has over 30 years experience as a mobile disco DJ. He is reliable so he'll bring spare equipment and tools just in case of a problem. Obviously he never drinks alcohol while he's working. He even pays his tax!
Time Trek Mobile Disco is a Solo Operator
This means that Andrew Downs will be your DJ
Why not give them a call? 07553 442234
Meet The Time Trek Mobile Disco DJs
General Services Offered by Time Trek Mobile Disco
Event Types
Adult Birthdays
Anniversaries / Reunions
Charity Fundraisers
Children's Parties
Corporate Events
Christmas Parties
Engagements
Funeral Wakes
New Year's Eve
Pubs & Bars
School Discos
Sports/Social Events
Weddings

Venue Types
Community Halls
Conference Venues
Historic Buildings
Hotels
Leisure Venues
Marquees
Outdoor Events
Private Homes
Pubs & Bars
Schools
Sports & Social Clubs
Theatres / Arenas

Age Groups
Tots 0-6 years
Children 7-12
Teens 13-16
Young Adults 17-21
Adults over 21
Areas Covered by Time Trek Mobile Disco
As you can see, Time Trek Mobile Disco accepts enquiries from quite a wide area around their base in London.
If your event is just outside their area, it might be worth making an enquiry anyway as they may be willing to make an exception.
Get FREE Quotes Now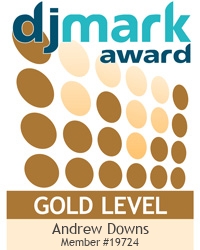 Customer Reviews & Feedback
We don't have any verified feedback for Time Trek Mobile Disco from the last 5 years. Hopefully it won't be too long. In the meantime, we would urge you to check out other potential sources such as Google or Facebook.
Venues Played
Would you like your suppliers to be familiar with your venue? Here's a list of places that Time Trek Mobile Disco has played at recently:
Like what you see?
Get FREE quotes from Time Trek Mobile Disco and other suppliers in your area! Just supply a few basic details...