DJ Paul Williams
Top DJ With 25 Years' Experience. Check My Reviews
Good morning, I'm Paul from DJ Paul Williams. Welcome to our profile page.
DJ Paul Williams has been a needadisco.com member since 2012 and we are delighted to have earned a DJmark Gold Award underlining our commitment to great customer service.
Please read on to find out how we can help you have an unforgettable party...
Introducing DJ Paul Williams
4.9 out of 5 rating from 31 reviews
Presented by DJ Paul Williams with 23 years' experience. Quality professional sound system for up to 250 people, LED lighting, fog/smoke effects if required/allowed, huge collection of music up to current chart, laser video CD karaoke with wireless mics.

Covering weddings, 18th/21st/30th/40th/50th/60th/70th/80th birthdays, Christenings, kids parties etc.

I have played in many top hotels and High Street bars over the years and was a resident DJ at a top Chester nightclub in my earlier years, but nowadays I prefer private mobile discos. I put my success in DJing down to keeping everybody happy by reading the dancefloor and keeing the party flowing. I ask for and play requests throughout the night. I am regularly complimented on actually playing what the client asks for!

From a music point of view I am happy to play anything you want from the oldies up to today's music - 60s, 70s, 80s, 90s, 00s, Motown, dance, old skool, rock, indie, R&B etc.. On a typical night I will start off playing chilled background music like George Benson, Luther Vandross etc. and then going to the latest chart music then a mix of chart and older stuff all night - using the classics to keep the dancefloor busy. I do take requests and playlists are welcome.
DJ Paul Williams is a Solo Operator
This means that Paul Williams will be your DJ
Why not give them a call? 07787 870995 07787 870995
Meet The DJ Paul Williams DJs
Paul Williams
Friendly Professional Reliable DJ for any Occasion
More Info...
General Services Offered by DJ Paul Williams
Event Types
Adult Birthdays
Anniversaries / Reunions
Charity Fundraisers
Children's Parties
Corporate Events
Christmas Parties
Engagements
Funeral Wakes
New Year's Eve
Pubs & Bars
School Discos
Sports/Social Events
Weddings

Venue Types
Community Halls
Conference Venues
Historic Buildings
Hotels
Leisure Venues
Marquees
Outdoor Events
Private Homes
Pubs & Bars
Schools
Sports & Social Clubs
Theatres / Arenas

Age Groups
Tots 0-6 years
Children 7-12
Teens 13-16
Young Adults 17-21
Adults over 21
Areas Covered by DJ Paul Williams
As you can see, DJ Paul Williams accepts enquiries from quite a wide area around their base in Little Neston.
If your event is just outside their area, it might be worth making an enquiry anyway as they may be willing to make an exception.
Get FREE Quotes Now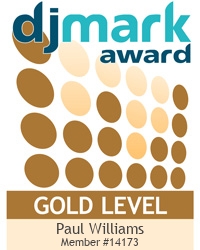 Customer Reviews & Feedback
We don't have any verified feedback for DJ Paul Williams from the last 5 years. Hopefully it won't be too long. In the meantime, we would urge you to check out other potential sources such as Google or Facebook.
Venues Played
Would you like your suppliers to be familiar with your venue? Here's a list of places that DJ Paul Williams has played at recently:
Like what you see?
Get FREE quotes from DJ Paul Williams and other suppliers in your area! Just supply a few basic details...