Robbies Roadshow Disco Ltd
High Quality Mobile Disco With 32 Years Experience
Welcome to the profile page for Robbies Roadshow Disco Ltd.
Robbies Roadshow Disco Ltd has been a needadisco.com member since 2012 and we are delighted to have earned a DJmark Diamond Award underlining our commitment to great customer service.
Please read on to find out how we can help you have an unforgettable party...
Introducing Robbies Roadshow Disco Ltd
4.8 out of 5 rating from 20 reviews
We provide a high quality bespoke service available for most budgets and clients. Our services range from a small children's disco, local clubs, pubs and village halls, right through to weddings, birthday parties, corporate and military balls and events.

We are also on the books of several major entertainments agencies. (This allows us to be hired at high class corporate and military events).

Our disco and karaoke system is built around the size of an event - the number of guests attending and the budget of the client. We have an array of different lighting effects that we can incorporate into any size show - being able to build a totally different lightshow every day of the week! Our sound system is similar - being able to supply different outputs using a choice of bass bins right through to full-range cabinets.

We specialise in weddings, being able to provide a wide range of musical tastes to a wide age range, and integrating requests throughout the day/evening.

Our company vehicle carries backup equipment on board so we can replace failed items there and then. Hopefully this will entice you to book us - we're sure you will not be disappointed!
Robbies Roadshow Disco Ltd is a Solo Operator with non-performing staff
This means that Rob Brown will be your DJ
Why not give them a call? 01208 813857 07974 353251
Meet The Robbies Roadshow Disco Ltd DJs
Robbie\'s Roadshow Disco LTD
Premium Disco Packages With 31 Years Experience
More Info...
General Services Offered by Robbies Roadshow Disco Ltd
Event Types
Adult Birthdays
Anniversaries / Reunions
Charity Fundraisers
Children's Parties
Corporate Events
Christmas Parties
Engagements
Funeral Wakes
New Year's Eve
Pubs & Bars
School Discos
Sports/Social Events
Weddings

Venue Types
Community Halls
Conference Venues
Historic Buildings
Hotels
Leisure Venues
Marquees
Outdoor Events
Private Homes
Pubs & Bars
Schools
Sports & Social Clubs
Theatres / Arenas

Age Groups
Tots 0-6 years
Children 7-12
Teens 13-16
Young Adults 17-21
Adults over 21
Areas Covered by Robbies Roadshow Disco Ltd
As you can see, Robbies Roadshow Disco Ltd accepts enquiries from a fairly small area around their base in Wadebridge.
If your event is just outside their area, it might be worth making an enquiry anyway as they may be willing to make an exception.
Get FREE Quotes Now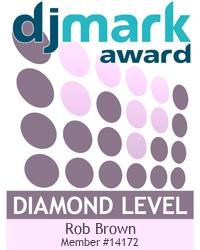 Customer Reviews & Feedback
Overall average scores for each attribute provided by verified clients of Robbies Roadshow Disco Ltd over the past 5 years
Why 5 years?
| | | | |
| --- | --- | --- | --- |
| | Audio Quality | 4.5 out of 5 | |
| | Lighting Quality | 4.5 out of 5 | |
| | Presentation of Equipment and DJ | 4.5 out of 5 | |
| | Music Choices | 5 out of 5 | |
| | Handling of Requests | 5 out of 5 | |
| | Microphone Use / Audience Interaction | 3.5 out of 5 | |
| | Would Recommend to Others for Similar Events | 100% | |
| | Value for Money | | |
Latest feedback comment for Robbies Roadshow Disco Ltd


"It been a while since the party, but DJ was perfect he tailored the music and volume to the wide range of ages of the guests. "
Read detailed feedback for Robbies Roadshow Disco Ltd
Venues Played
Would you like your suppliers to be familiar with your venue? Here's a list of places that Robbies Roadshow Disco Ltd has played at recently:
Like what you see?
Get FREE quotes from Robbies Roadshow Disco Ltd and other suppliers in your area! Just supply a few basic details...