Introducing Simon B
Lets the music do the talking but enjoys a laugh.
Introducing Simon B
Simon Bailey (stage name Simon B) is a DJ regularly working for SBDJs Entertainment
Read on to learn a bit more about Simon B and find out if they might be the perfect choice for your party or event!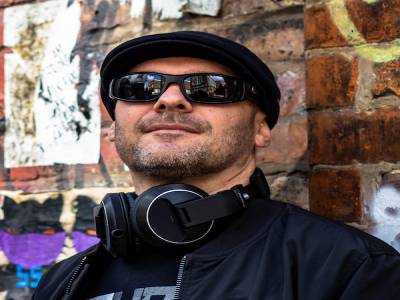 You can reach SBDJs Entertainment on 07931 638007
Learn more about SBDJs Entertainment
Simon B's Musical Specialities
Here are some of the specialist music genres for Simon B - this isn't an exhaustive list - just the areas where this DJ has the widest knowledge and experience
Indie / Alternative
Not a genre as such, indie is music produced independently from commercial record labels - often including a DIY element for up-and-coming bands with little capital.

Alternative music often describes bands whose roots were in indie production - but many so-called alternative bands and artists come from mainstream labels too.
Soul
A pop genre originating with African American musicians in the 1950s and 1960s combining elements of gospel, rhythm & blues as well as jazz. Soul became popular for dancing and listening in the US where labels such as Motown, Atlantic and Stax were prevalent.
80s era
The 1980s saw the rise of MTV and music videos. Michael Jackson and Madonna were the most powerful musicians during this time. Their videos became a permanent fixture on MTV and gained a worldwide mass audience. Michael Jackson's Thriller album from 1982 is the best-selling album of all time.

In the second half of the 1980s teen pop became popular with bands and artists like New Kids on the Block, Debbie Gibson, Tiffany, Tommy Page, New Edition, Stacey Q, The Bangles, Madonna, Olivia Newton-John and others.

Urban pop acts of the 1980s include Tina Turner, Lionel Richie, Michael Jackson, Whitney Houston and Deniece Williams. American artists such as Whitney Houston, Michael Jackson, Bruce Springsteen, Tina Turner, Bon Jovi, Prince and Janet Jackson ruled the charts throughout the decade and achieved tremendous success worldwide.

And then there were the New Romantics like The Human League, Duran Duran, Spandau Ballet, Culture Club, Visage and Soft Cell alongside rock bands like Queen, Motley Crue, Bon Jovi, Europe, Twisted Sister, Poison, Whitesnake, Guns N' Roses and the successful comebacks of Aerosmith and Alice Cooper.

And the 80's were a rich source of great soul and disco music with Prince, Jermaine Jackson, The Whispers, The S.O.S. Band, Stevie Wonder, Kool & the Gang, Yarbrough and Peoples, Rick James, Diana Ross, Lionel Richie, Earth, Wind & Fire, Dazz Band, Evelyn King, Marvin Gaye, Mtume, DeBarge, Midnight Star, Luther Vandross, Freddie Jackson, Sade, Anita Baker, Teddy Pendergrass, Peabo Bryson.

Add with the beginnings of hip hop with Run D.M.C., Beastie Boys, NWA, LL Cool J, Public Enemy, Eric B. & Rakim, Big Daddy Kane, Boogie Down Productions, and Ice T, among others and the 80's truly had something for everybody.
Ska / 2-Tone
The precursor to the Reggae movement, Ska originated in Jamaica and is characterised by a walking bass line with rhythms on the off beat. In the late 1970s the 2-tone Ska movement in the UK fused Jamaican ska rhythms with faster tempos and a slightly harder edge by bands such as Madness, The Specials, The Beat and The Selecter.
Disco / Funk
Disco is a wide genre that emerged in the 1970s from the US nightlife scene - typified by four-on-the-floor beats, strings and horns, electric piano and rhythm guitars. Well known disco artists across the world include ABBA, the Bee Gees, Donna Summer, Boney M, Earth, Wind and Fire and many more. A true Disco specialist will unearth classic tunes that you will vaguely recognise but will immediately be able to dance to!
House
A subgenre of electronic music typified by a four-on-the-floor beat and a medium temp, created by DJs remixing disco songs to give them deeper basslines and a mechanical beat. Proponents included Frankie Knuckles, Steve Silk Hurley, Farley Jackmaster Funk and others.
Fun Facts about Simon B
We asked Simon B to supply some snippets of information about themselves, just for fun!
What year did you start DJing?
1996
Where was your first gig?
Private basement party in Farringdon
How much did you earn from your first gig?
£80
What would be your one favourite type of event?
House, Funk, Soul & Disco mash up
What is your absolute favourite musical genre?
Balearic
Which song would you send into Room 101?
Aqua \\\'Barbie Girl\\\'
What was the first record you ever bought?
Survivor - Eye of The Tiger
Who is your favourite musical artist?
Echo & The Bunnymen
What piece of kit do you wish someone would hurry up and invent?
Completely wireless and dependable audio visual set up that packs itself away afterwards.
What is your all-time favourite lighting effect?
Mirrorball
What is your favourite brand of PA speaker?
QSC / RCF
What is the oldest bit of kit in your collection?
The DJ!
What was the most embarassing moment in your DJ career to date?
Mistaking someone\\\'s song request as Weller Fisherman Song when in fact they requested the Fisherman (Blues) song by Waterboys. It wasn\\\'t clear when requested but the poor lad was very confused when I dedicated the wrong song to him :-)
What do you think is the BEST part of DJing?
Seeing happy smiling people dancing
What do you think is the WORST part of DJing?
Packing up after a gig.
Like what you see?
Get FREE quotes for Simon B and other local providers! Just supply a few basic details...